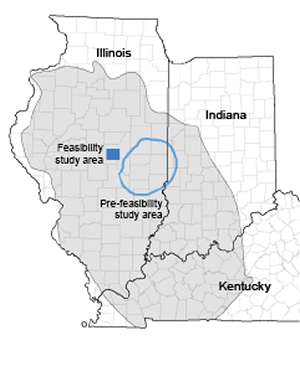 What is CarbonSAFE-Illinois
Commercial-scale carbon capture and storage (CCS) projects face a wide range of challenges, including public perception, uncertain political support, limited or no storage resource, distance between source and sink, absence of clear policy on carbon price, regulatory uncertainty, long-term liability, cost of capture, and lack of a compelling business case. CarbonSAFE Illinois seeks to address these challenges by integrating the technical and business expertise of multiple academic and industry partners.

The CarbonSAFE Illinois – Macon County project is investigating the feasibility of developing a commercial-scale geological storage complex in Macon County, IL, that could store 50 million tonnes or more of industrially sourced CO2.

The CarbonSAFE Illinois – East Sub-Basin project is investigating the potential for commercial-scale CCS geological storage complexes in the East Sub-Basin of Illinois.